LUNA FIBER STUDIO CLASSES
5/29/2017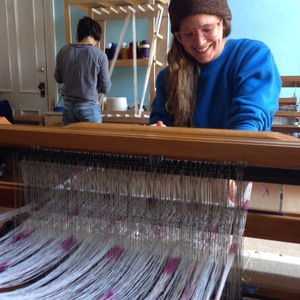 Please visit us to stay up to date with natural dye classes and weaving workshops!!!

www.lunafiberstudio.com
---
Botanical Night
6/23/2016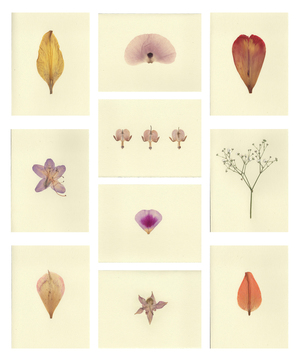 @ Handwork Ithaca's Artisan Cooperative
​Friday July 1st, 102 W.State St, 5 - 8pm
(Part of First Friday Gallery Night)
From plant to print come see the genius behind Planetarium Designs' inspiring botanical textiles. Witness the screen printing process in action and learn dry pressing techniques for wild flowers. Local artist Sarah Gotowka will also be demonstrating how she creates one-of-a-kind dry-pressed floral arrangements. These hand pressed flowers are grown in her own gardens, friend's gardens, or are donated by local florists. Lyrics from popular songs are often used in Sarah's unique and ephemeral pieces.
---
ECOPRINTING W/ LOCAL COLOR
6/23/2016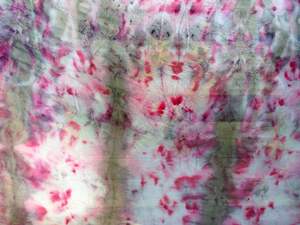 @ The Craftstitute
July 20th/ 6:30-9:30 PM/ $40

Celebrate the summer by creating a one-of-a-kind ecoprinted silk gauze scarf, a beautiful lightweight accessory for warm weather! Join me for this fun evening of creative plant-based printmaking.

Ecoprinting is a process that takes advantage of the naturally occuring colors in plants. We'll collect local sources of color, from tree leaves to meadow blossoms. We will then arrange the materials on silk chiffon to create unique patterns and designs. The resulting textile is a beautiful reminder of the early summer in Ithaca.
---
Natural Dye Workshop: Resist Techniques with Organic Indigo
6/23/2016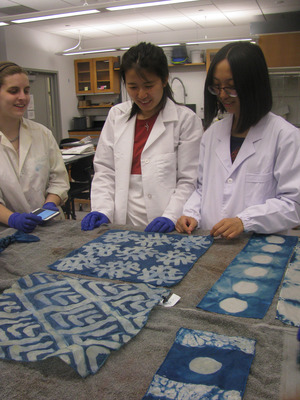 A Two Part Workshop Series:
@ EAC Montessori School, 120 East King Rd
Thursday July 7, 6 - 9pm
Thursday July 14, 6 - 9pm
Learn how to create one-of-a-kind cloth using natural dyes and various resist techniques! During our first day we will tour EAC's natural dye garden and become familiar with basic natural dye plants and processes. We each will create 3 unique silk handkerchiefs using a Japanese technique called Shibori. The second day will be dedicated to learning wax resist, commonly called Batik. We will be able to dye our previously dyed handkerchiefs, as well as a large cotton bandana in an organic indigo vat to create unique hand-drawn and layered designs!
$75 Two Day Workshop/$45 Single Day Workshop
*All materials included!!!!*
For inquiries and registration:
lunafiberstudio@gmail.com