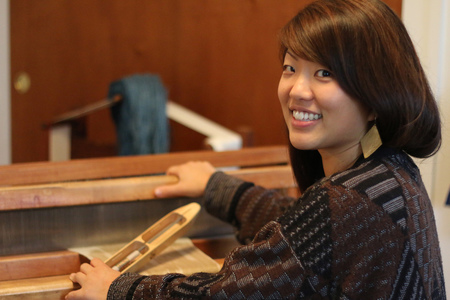 saagoto@gmail.com
Etsy Shop
Youtube Channel
Instagram
TO LEARN ABOUT SARAH'S CLASSES PLEASE VISIT LUNA FIBER STUIO WEBSITE!!!
Sarah Gotowka is a visual artist currently living in Trumansburg. She is adopted Korean-Polish-Italian-American, and grew up in the suburbs of Rochester where she obsessively made mix tapes from 90's radio airplay and built makeshift forts in the woods. (These factors alone have influenced her art practice immensely.) She received her BFA from The Cleveland Institute of Art majoring in Fiber and Material Studies in 2007, and graduated with an MFA from Concordia University's Fiber and Material Practices in 2013.
Sarah helped found The Color Collective, an initiative to grow sustainable dyes in Montréal without the interference of machines or chemical fertilizers. This collaboration led to the instruction of many workshops at the Concordia University Greenhouse and Montréal Center for Contemporary Textiles, as well as exhibitions at the Textile Museum of Canada, the International Symposium & Exhibition on Natural Dyes in LaRochelle, France, and at the 13th Biennial Symposium of The Textile Society of America in Washington DC.
After receiving her MFA she moved back to upstate New York and has collaborated with Cornell, Ithaca College, The Craftstitute, New Roots Charter School and The Johnson Museum of Art, giving various workshops on natural dye plants and textile practices. She has also received grants from The Community Arts Partnership of Tompkins County, and is currently teaching private weaving lessons. Her dream is to open a non-toxic textile school in Ithaca!